The Racing calipers are forged and/or machined entirely from billet. Calipers are then treated with a clear hard anodized race finish. The combination of superior materials and a stringent manufactuting process maximize stiffness and thermo-mechanical resistance which is critical in racing.
The system includes 2, 4, or 6-piston monobloc or 2 piece calipers, 2-piece floating brake disc assemblies, a selection of racing friction materials and all the necessary hardware to insure seamless installation.
200 +
The Brembo High Performance (HP) Program is the direct result of winning over 200+ World Championships and decades of designing brake systems for the worlds top supercar manufacturers.
Brembo Dominated Motorsports: Formula 1, World Rally Championship (WRC), NASCAR, Champ Car World Series, Indy Racing League (IRL), American Le Mans Series (ALMS), Grand Am Rolex Sports Car Series, Speed World Challenge, and FIA GT Championship.
DEVELOPS BRAKE SYSTEMS FOR THE TOP AUTOMOTIVE MANUFACTURERS FROM ALL AROUND THE WORLD
Brembo has a unique relationship working directly with automotive manufacturers to develop high performance braking solutions specifically for your vehicle. You can rest assured that every system designed by Brembo is specifically tuned for your vehicle like no other braking system on the market.
Brembo supplies over 30 automotive manufacturers including Acura, Aston Martin, Audi, BMW, Cadillac, Chrysler, Dodge, Ferrari, Ford, General Motors (GM), Honda, Infiniti, Jaguar, Jeep, Lamborghini, Land Rover, Lexus, Maserati, Mercedes-Benz, Mitsubishi, Nissan, Porsche, and Subaru.
UNRIVALED MANUFACTURING EXPERTISE
Brembo uses its own foundries in the industrial process, whereby bringing a thorough knowledge of metallurgy to its design know-how which also creates further synergy in the optimization of the production cycle. The research and development phase is flanked by the testing phase which involves static, comfort and road testing and dynamic tests on test benches.
Brembo brakes are manufactured under quality and environmental ISO 9004 and ISO 14000 management standards which puts Brembo in a league of its own in high performance braking.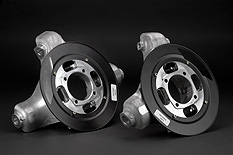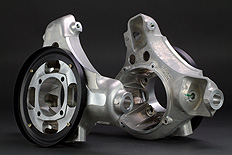 System Includes (Per Axle)
Caliper Construction / Material
Number of Pistons
Piston
Design / Material
Caliper Finish
Disc Type
Disc Finish
Calipers, Discs, Brake Lines, Caliper Mounting Brackets, and Brake Pads
Billet 5-axis Machined, Aerospace Aluminum-alloy, Monobloc and 2-piece
2, 4, 6, 8
Ventilated Titanium Insert, Single Inner Pressure Seal
Clear Hard Anodized
Slotted
-
Type III
-
Type V
-
---