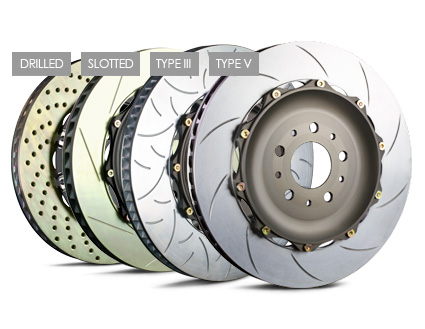 Brembo 2-piece discs are made up of an advanced cast-iron alloy which offers an exceptional coefficient of friction and resistance to thermal shock and fatigue.
As the braking system's primary function is to dissipate heat, larger, more sophisticated discs are used in order to increase the fade resistance of the system. These discs are directionally vented for enhanced cooling, as well as drilled or slotted for improved consistency, continuously cleaning and refreshing the pad surface.
200 +
The Brembo High Performance (HP) Program is the direct result of winning over 200+ World Championships and decades of designing brake systems for the worlds top supercar manufacturers.
Brembo Dominated Motorsports: Formula 1, World Rally Championship (WRC), NASCAR, Champ Car World Series, Indy Racing League (IRL), American Le Mans Series (ALMS), Grand Am Rolex Sports Car Series, Speed World Challenge, and FIA GT Championship.
DEVELOPS BRAKE SYSTEMS FOR THE TOP AUTOMOTIVE MANUFACTURERS FROM ALL AROUND THE WORLD
Brembo has a unique relationship working directly with automotive manufacturers to develop high performance braking solutions specifically for your vehicle. You can rest assured that every system designed by Brembo is specifically tuned for your vehicle like no other braking system on the market.
Brembo supplies over 30 automotive manufacturers including Acura, Aston Martin, Audi, BMW, Cadillac, Chrysler, Dodge, Ferrari, Ford, General Motors (GM), Honda, Infiniti, Jaguar, Jeep, Lamborghini, Land Rover, Lexus, Maserati, Mercedes-Benz, Mitsubishi, Nissan, Porsche, and Subaru.
UNRIVALED MANUFACTURING EXPERTISE
Brembo uses its own foundries in the industrial process, whereby bringing a thorough knowledge of metallurgy to its design know-how which also creates further synergy in the optimization of the production cycle. The research and development phase is flanked by the testing phase which involves static, comfort and road testing and dynamic tests on test benches.
Brembo brakes are manufactured under quality and environmental ISO 9004 and ISO 14000 management standards which puts Brembo in a league of its own in high performance braking.
System Includes
Hardware Type
Disc
Construction / Material
Disc Types
Disc Finish
Upgraded Discs Used with OEM
Calipers (sold in pairs)
"D" Type Bobbin
Disc: Proprietary Material
Bell: Billet 6061 T6 Aluminum
Slotted
Zinc
Drilled
Zinc
"H" Type Bobbin
Type III
-
Type V
-
---