KW Competition coilovers are the number one choice for many top international race teams. The excellent combination of performance, affordability , and standing history of successful championships claimed by KW racing technology confirm that KW Competition kits are the leading suspension in its class when it comes to performance and quality.
The versatility of the KW Competition suspension kits accommodate a broad range of different pavement surfaces, radius of turns, and elevation changes. The KW Competition kit has been the mainstay of many top teams racing at the most demanding race track in the world – Nurburgring Nordschleife, aka the "Green Hell".
Whether in the VLN, 24h Nürburgring, GT Asia, WTCC, FIA GT1, ADAC Procar – motorsports teams everywhere rely on the suspension know-how of KW Competition.
KW's renown test center provides the ability for our competition department to progress in specific areas of vehicle suspension setup in a confidential environment. The hydraulic 7-post rig can be activated in various modes such as 7 post and 4 post sweep.
Depending on the type of race car, between 50 to 100 measurements can be recorded each day.
Compared to the race track environments ,there is no wear and tear on the vehicles and racetrack fees along with testing times are reduced significantly.
The KW test center is open to all teams regardless of their brand of suspension on their vehicle.
KW 2-way competition racing suspension
KW Competition 2 way suspension kits feature independent rebound and compression damping. They can be constructed out of galvanized steel housings when structural strength is a concern or lightweight aluminum when weights savings is advantageous. The following damper versions are available:
Twin tube technology with 15, 18 or 22 mm rod diameter

including surge tank for an position independent installation

including adjustable compression valve technology in the reservoir for additional damper stroke

Mono-tube upside down damper cartridge with 40 mm standard bearing
The rebound adjustments are made at the end of the piston rod end and provide 16 precise clicks of adjustment. The compression adjustment is located at the bottom of the damper or on the reservoir and provides 12 exact clicks of adjustments. IN addition to a wide range of suspension systems. Custom orders can be accommodated for nearly every type of race car.
Rebound adjustment in terms of damping force (N) to damper speed (m/s)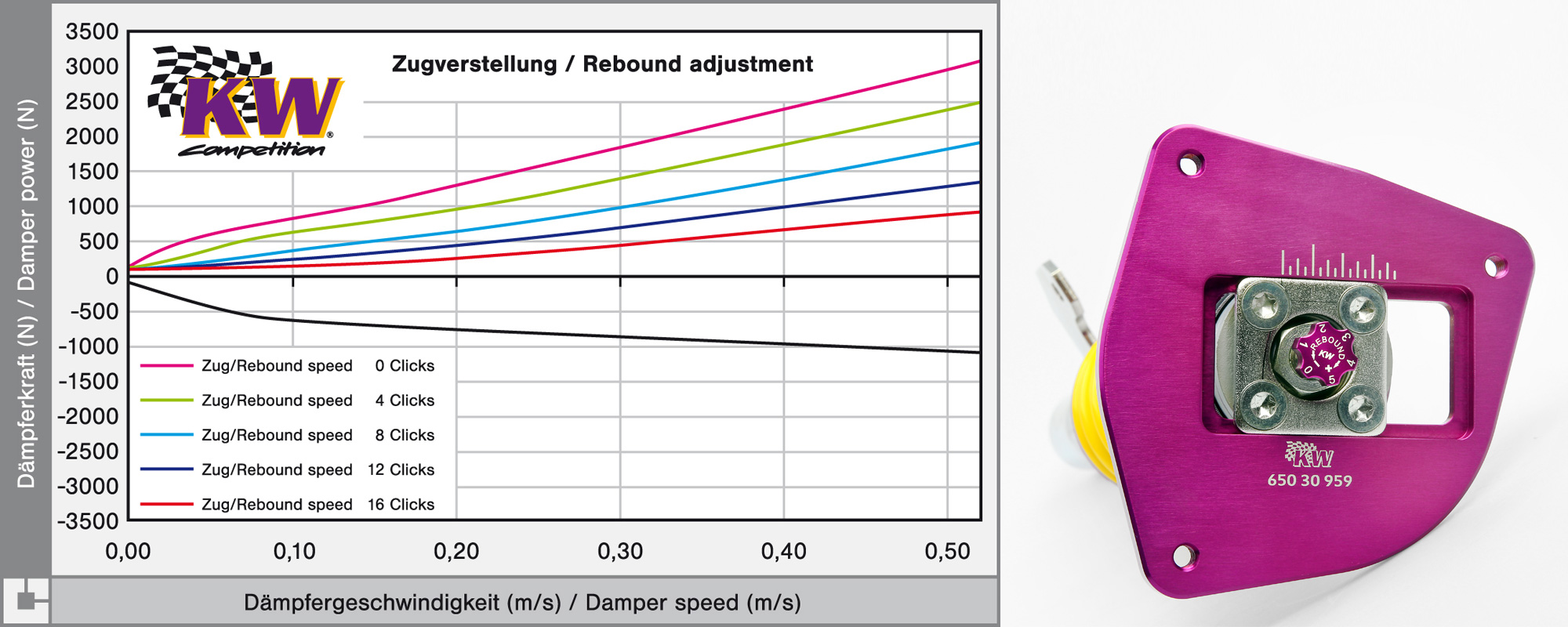 KW 3-way Competition racing suspension
The KW competition 3-way racing coilovers provide 3 independent features of adjustment, low-speed rebound as well as high and low-speed compression adjustment. The unique valve technology of the 3-way damper system differs from the conventional mono-tube damper shim package valve technology. This design also provides a maintenance-friendly damper system.
Versatile in its design, the damper system performance remains consistent even through a high temperature environment, and has proven to be reliable. The Competition 3-way systems are designed on the mono-tube damper principle with an adjustable reservoir. Rebound adjustments are made through an adjustable needle on the pre-adjustable valves.
Depending on the version (18 or 22 clicks), the compression level in the low-speed and high-speed range can be adjusted. The standard compression level is controlled by a pre-configurable blow-off valve. The 3-way Competition kits are constructed of high-strength aluminum. McPherson front struts are constructed as inverted dampers with 40mm and 45mm/55mm (for rally use) guiding tube diameters. Steel construction is an option for endurance racing applications.
cPherson struts utilize a 40mm damper cartridge providing a highly stable and laterally flex resistance construction. The inverted damper is guided in an outer tube housing via a standard bearing. Special linear bearings are optional and reduce any possibility of rod stiction. This is an ideal setup when racing with wide and soft compound race tires.
As wheel-guiding struts are exposed to maximum loads during cornering and braking, the benefit of KW linear guided bearings grow at an increasing lateral force of up to 87% less friction compared to plain bearings.
Advantages of linear bearing:
40 mm inverted cartridge

high stability and camber stiffness

up to 87% less friction under lateral force